CUSTOM WATER (BTH2o)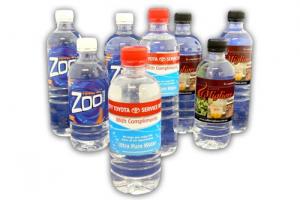 Description:
Why not use Customised Promotional Bottled Water for your Event, Cafe or Fundraising? Our water is the ONLY water guaranteed free of bacteria, sodium, fluoride, mercury, dissolved solids and all other nasties. All other waters will grow bugs over time, which is why our bacteria free status is so important. It goes through 15 separate filtering processes to remove all impurities. This removes all traces of fluoride & chlorine, as well as all other contaminants typically found in tap water and other ordinary bottled waters. No chemicals are used in this process.
Options:
600ml, 350ml, 500ml slim. Black or White caps. Pop tops also available.
Decoration:
Label Size 115mm X 67mm. Full colour.
Priced From:
$1.49 per bottle.
Request a Quote

STUBBY HOLDERS
PULL UP BANNER
PHOTO MUG (full print)
AFL JUMPER